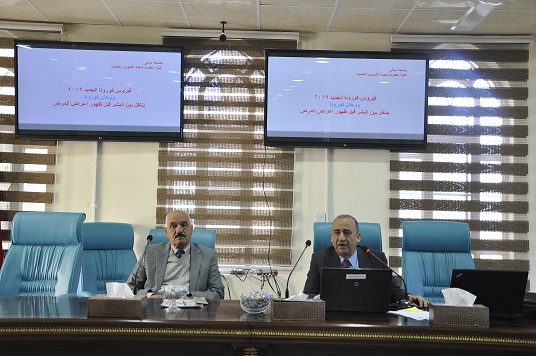 Symposium on the global crisis of coronavirus
Symposium on the global crisis of coronavirus.
---
The Department of Biotechnology at the University of Diyala organized a scientific symposium on the global crisis of coronavirus, current outbreak of novel coronavirus (2019-nCoV) that was first reported from Wuhan, China, on 31 December 2019 presented by Dr. Amer Khazaal Saleh and Dr. Mohammed Khalifa Kudiar in the presence of a number of staff members and students.
The symposium focused on the discovery of a novel coronavirus associated with the recent pneumonia outbreak in humans and its potential bat origin, types of coronavirus, types and transmission, symptoms, treatment and prevention of the viral infection. The lecturers have shown the effective ways of preventing viral infections and reduce potential spread of the infection.
The symposium was also covered the basic protective measures against the new coronavirus published by WHO including:
Excessive hand washing.

Practice respiratory hygiene.

Maintain social distancing.

Avoid touching eyes, nose and mouth.

If you have fever, cough and difficulty breathing, seek medical care early.

As a general precaution, practice general hygiene measures when visiting live animal markets, wet markets or animal product markets.

Avoid consumption of raw or undercooked animal products.
Moreover, the symposium is also to foster deeper collaboration and broader exchange in order to provide data for scientific investigators.
This event was attended by the Associate Dean for Academic Affairs and students Dr. Munther Hamzah Radhi and the Head of the Department of Biotechnology Dr. Esam Hamid Hameed and a large number of specialists and peoples interested in this regard.