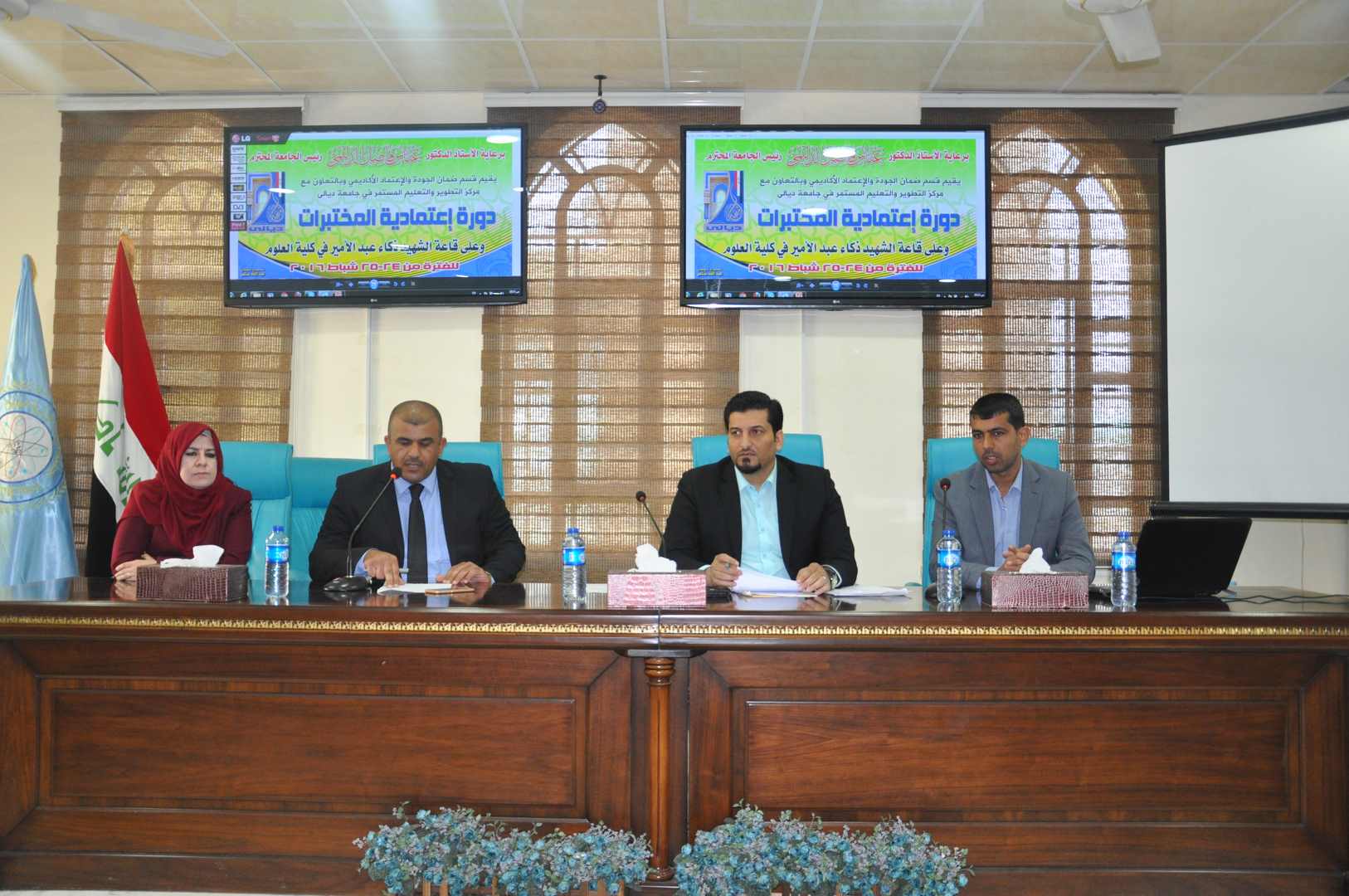 Quality Assurance and Academic Accreditation Department at university of Diyala regulates a session on the reliability of laboratories at College of Science.
Quality Assurance and Academic Accreditation Department along with Development and continuous Education Centre at University of Diyala regulate a training session about the reliability of laboratories in the martyr Thaka Abdul Ameer hall at the College of Science for the period 24-25 of Feb 2016.
The aim of the session, which was delivered by Dr. Abbas Athab Odah and Dr. Amjad Mohammed Saheb from the Ministry of Higher Education and Scientific Research to define the term ISO along with ISO types, its standards and the aim of the standards. Also, it aimed to introduce the laboratory quality system and its international standards and the requirements of Good Laboratory Practice (GLP).
The session included several topics, including the starting date of the international standards for laboratory, organizations that issue these standards and the number of countries that contributing, participating and applicable of these standards, as well as, the scientific and technical definition of the meaning of the standard, and the practical, scientific and economic usefulness of the application of the standard in the laboratory.
The laboratories were classified into academic productive laboratories and educational. The lecturer has offered an introduction of the organization of the ISO by providing some standards issued by this organization; in particular, the ones are specified in laboratory quality system ISO 17025. As well as a detailed explanation of Good Laboratory Practice (GLP) standards and Good Clinical Laboratory Practice (GCLP) standards were provided by the lecturer.
Also, the comparison of two laboratories is provided to demonstrate the applicability of these standards.
The session was attended by Mr. Dean of the College assistant professor Dr. Tahseen Hussain Mubarak, members of the faculty council, the administrators of quality assurance and reliability of laboratories unit at the college and university, the administrators and supervisors of the scientific laboratories at the college and a number of the college's lecturers.
In addition, it was attended by administrator of Development and continuous Education Centre at the university assistant professor Dr. Ayad Hashim and the director of quality assurance assistant lecturer Wisam Emad abdul Ghany.
---